Brain imaging for everyone
Stockholm University has begun the journey towards a world-class neuroimaging center. At the Stockholm University Brain Imaging Center (SUBIC), modern techniques will be used to investigate the structures and functions of the brain. A brain imaging center provides a unique platform for researchers within the social, natural, humanistic and technological research fields, and creates new opportunities for interdisciplinary collaborations in research as well as in education.
Arrangör/Organiser: Arrangörsgruppen för SUBIC genom Jonas Olofsson, docent i psykologi, Stockholms universitet
Kontakt/Contact: Sara Oliv, sov@psychology.su.se
Föranmälan krävs/Registration required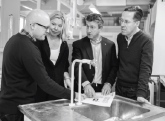 Are you curious about SUBIC and want to know more? Take the opportunity on May 18th, when Stockholm University organizes a meeting on the topic of SUBIC.
We will be visited by two world-leading neuroimaging researchers. Kristine Walhovd and Lars Nyberg, who have made groundbreaking discoveries about the human mind and the aging brain, and who will talk about their experiences in building leading brain imaging centers at the Universities of Oslo and Umeå. Professor Francisco Lacerda from the Department of Linguistics at Stockholm University will talk about the SUBIC project.
The afternoon will end with a toast and mingle where new contacts and ideas for future resarch projects can be developed. Welcome to a stimulating afternoon meeting about brain imaging.
Time and place
Wednesday May 18th, 1–5 PM.
William-Olssonsalen, Svante Arrhenius väg 14 (on campus).
Speakers
Kristine Walhovd, professor, Oslo University
Lars Nyberg, professor, Umeå University
Francisco Lacerda, professor, Stockholm University
Schedule
1–1.15: Introduction by the SUBIC organizing committe
1.15–1.45: Francisco Lacerda "SUBIC - from vision to reality"
1.45–2.45: Kristine Walhovd "Experiences from the research group for Lifespan Changes in Human Cognition (LCBC) at the University of Oslo"
2.45–3.00: Fika
3–4: Lars Nyberg "The first 15 years: Experiences from building and running a brain-imaging centre at UmU"
4–5: Mingle
How to register
Please e-mail Sara Oliv (sov@psychology.su.se) at the Department of Psychology to sign up for the conference. Also note in the e-mail your name, your position, and at which department you work. The conference is open for everyone and free of charge, but priority will be given to employees at Stockholm University. The conference will be held in English.