2016-03-09 MEG measures as probes of cortical language function
Honorary Lecture – The 2016 Curt von Euler Honorary Lecture will be held by Professor Riitta Salmelin, Aalto University. Professor Salmelin will speak under the title "MEG measures as probes of cortical language function".
Time: March 9, 2016, 15:00–17:00
Place: Lecture hall 10, House E, Södra huset, Frescati
A reception in honour of professor Salmelin will follow the lecture.
Abstract
Evoked responses that pick up phase-locked signals, averaged across tens of trials, are the well-established, reliable workhorse of MEG. After two decades of work, it seems fair to say that evoked responses yield consistent results in basic language paradigms, such as spoken and written word perception and picture naming—we know what kind of MEG responses to expect in studies of this type, even if we may not yet fully understand the specific processing reflected in the responses. Based on this groundwork, it has been possible to address neural correlates of language development, learning and disorders, and even begin to elucidate brain organization of meaning and knowledge. The choice of imaging measures can importantly influence the way we interpret brain function. MEG evoked responses, oscillatory power and real-time connectivity, as well as fMRI activation and slow haemodynamic interareal correlations allow complementary views to language processing. They are all equally true descriptors of brain function. Together, these various measures can offer rich possibilities to multiview imaging that will reach beyond mere combination of location and timing of neural activation and help to uncover the organizational principles of language function in the human brain.
More information on Riitta Salmelin at Aalto University
Welcome!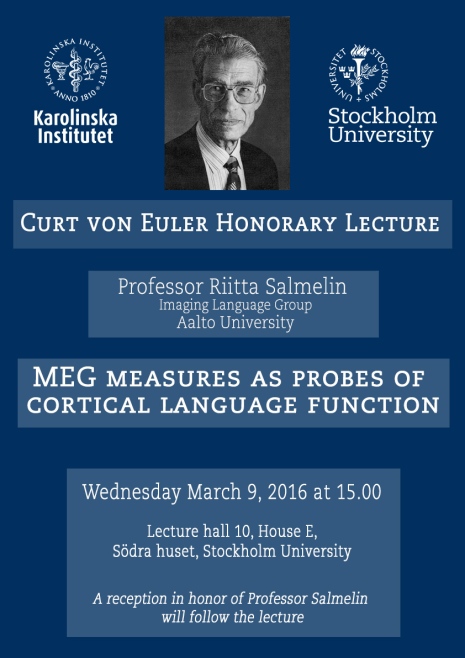 This Honorary Lecture is arranged by the Department of Linguistics in collaboration with the Nobel Institute for Neurophysiology and the Department of Clinical Science at Karolinska Institute