Open seminar with Nicholas Evans: Waving to the other side
EVENEMANG
Datum:
11 april 2019 15:00
-
11 april 2019 17:00
Plats:
Stockholms universitet, Hörsal B5, Södra husen, Frescati
Welcome to "Waving to the other side" , an open higher seminar with Professor Nicholas Evans, Australian National University, Centre of Excellence of the Dynamics of Language (CoEDL) on the language of poetry in indigenous Australian song.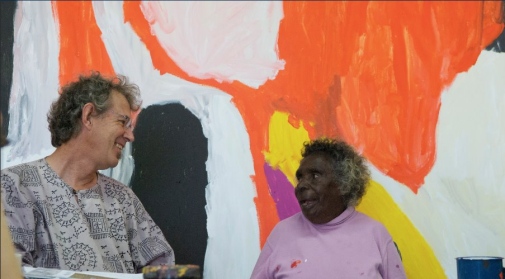 Tid: Torsdag 11 april, kl 15-17
Plats: Stockholms universitet, Hörsal B5, Södra husen, Frescati
"Poetry and song are inextricably interwoven in most indigenous Australian traditions. And the poetic masterpieces found across the continent are little-known outside their immediate communities, tied up as they are with the intricacies of the languages they are sung in. As a result, Australia has little awareness of the many hundreds of Shakespeares, Keatses, and Bob Dylans whose poetic masterpieces are composed in First Nations languages.
In this talk I will seek to give a glimpse into the richness of the poetic language found across a number of north Australian communities I have worked in.
I take the title of my talk from some lines of a Mayali song by the late and great Djorli Laywanga, a Dalabon songman:
Kurebe ngadjowkke ngawayudwayudme, marrek berlnayiii,marrek nuk berlnayiii
(From the other side of the river I am waving, I couldn't see your arm waving back, Maybe I missed your arm waving)
I hope that the close readings of several poetic masterpieces that I will undertake during the lecture will help span what we see and hear across the river."

For more information contact henrik.bergqvist@ling.su.se.