In Memoriam - Gunnel Källgren
Gunnel Källgren (1949-1999)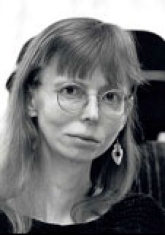 Gunnel Källgren, Professor of Computational Linguistics at the University of Stockholm, died February 11, 1999, at the age of 49.
Gunnel was severely disabled by muscular dystrophy. Yet, she managed not only to be a productive scholar and make significant contributions to her field but also to be a central point in our department's life and to be the main source of inspiration and moral support for a large number of people, not only among her own students and departmental colleagues but also elsewhere.
Over the last few years, Gunnel's major research engagement was the Swedish text corpus SUC, a joint project between our department and the Department of Linguistics at the University of Umeå.