Connecting students and alumni for mutual benefit through mentorship
EVENT
Date:
13 September 2020, 12.39 AM
-
13 September 2020, 11.59 PM
The Department of Linguistics participates in Stockholm University's mentorship programme in the academic year 2020/2021. We are now looking for students and alumni who would like to join the programme as mentors or mentees.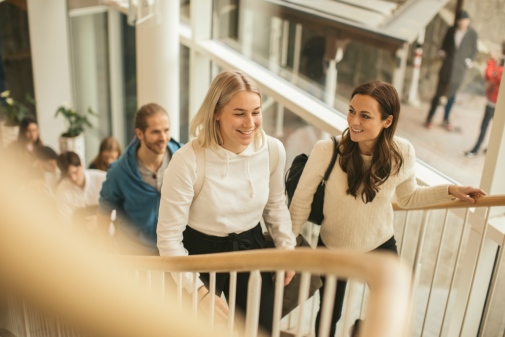 The main goal for the Programme is to connect alumni and students in a meaningful way, thereby creating a mutual benefit, and cementing a stronger relationship between all involved: the students, the alumni, and the department. We are now looking for students and alumni from the Department of Linguistics who would like to participate in the programme as mentors or mentees.
The mentorship programme starts in November with a workshop and a kick-off event (all events are held in English). This is followed by continued skill development and several social events.*
Apply to become a mentor
As a mentor you will be paired with a proactive and motivated student who is interested to learn from your experience. In turn, you will gain new insight and an extended network of contacts.

Why become a mentor?
To become a better supervisor. Mentorship experience improves your guidance skills.
To gain insights on the expectations of people who are on their way to the job market today and on their view of the world.
To share your experience and story and strengthen your skills.
To extend your professional and personal network by meeting other mentors and new colleagues in your field.
Does this sound interesting to you? Please apply here to become a mentor:
Registration Form for Alumni Mentors

Application for students
As student mentee within the Mentorship programme, you will be paired with a mentor who is a former student of your field. The participating alumni come from work life and are willing to share their experience and knowledge with you.
We are looking for you who
Sets goals and plans for how to reach them
Is proactive and show initiative
Is interested in extending your network and in building relationships
Is a good conversational partner and interested in what others have to share
Is without pretense and flexible
Could this be you? Apply to the Mentorship programme here:
Application Form for Mentees

Contact
Iris-Corinna Schwarz
Mentorship programme coordinator at Department level
Department of Linguistics
iris-corinna.schwarz@ling.su.se

*Due to the current pandemic, with reservations for how the situation will develop during the academic year, some events can take place via zoom.