INTERSPEECH 2017 – "Situated interaction"
EVENT
Date:
24 August 2017, 9.00 AM
-
24 August 2017, 11.59 PM
Venue:
Campus Frescati, Stockholm University
August 20–24, almost 2000 participants from all over the world assembled at Stockholm University to participate in INTERSPEECH 2017, an international conference that focused in research on speech communication – between humans as well as between humans and machines.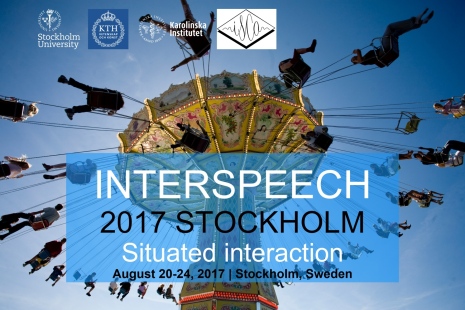 The theme of INTERSPEECH 2017 is "Situated interaction". The overall goal of the conference is to provide a broad approach to speech communication issues integrating speech technology and pragmatic aspects of human conversational speech communication behaviour in different interaction contexts.
INTERSPEECH 2017 will be a forum where humanists and technicians meet in a friendly but scientifically demanding atmosphere, to discuss the interaction between basic research and technical innovations, like "Siri", "Alexa" and"Furhat".
Conference agenda
The official opening session takes place on Monday, August 21st, but there will be tutorials and workshops already on Sunday, August 20th. A number of satellite events takes place immediately before and after the conference. The closing ceremony will take place in in Aula Magna on the 24th. The conference programme is available here.
About INTERSPEECH
INTERSPEECH is an annual international conference organised by ISCA (International Speech Communication Association). This year's conference is co-organised by Stockholm University, KTH och Karolinska Institute (KI), located at Campus Frescati, Stockholm University.
Sponsors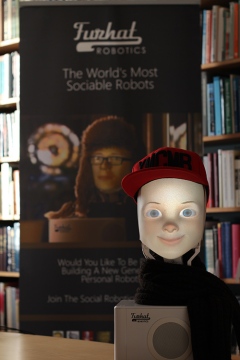 Some of the main sponsors at this year's conference are international companies like Microsoft, Apple, Amazon Alexa, DiDi, Alibaba Group, IBM, Yahoo, Google, and Furhat Robotics, a Swedish company originating from KTH.
Contact
Professor Francisco Lacerda, Stockholm University francisco.lacerda@ling.su.se eller tfn 070-6545799 alternatively registration@interspeech2017.org
Links
Interspeech2017: www.interspeech2017.org
ISCA (International Speech Communication Association, www.isca-speech.org)
Furhat: www.furhatrobotics.com